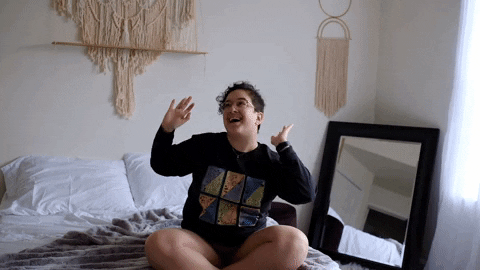 By now, you may have heard about the Astrology Sessions I'm planning this year, and you might be asking yourself…like…why?
WELL, let me tell you. Throughout 2019, I found myself drawn to and seen by astrology. It gave names to so many of my habits and tendencies that I had previously ignored. Astrology meme accounts brought my so much joy, and I finally explored my birth chart in full (want yours? head here!). I discovered my two favorite astrologers, Chani Nicholas and Nadine Jane (follow and support them, they're incredible). I jammed out to cosmic playlists, and the monthly horscope emails I got always felt so timely, so relevant, and so full of insight and advice.
If you've never given astrology a second thought, or if you think it's complete garbage, that's cool. Honestly, it might be. But there's nothing wrong with finding comfort in labeling yourself. That's why things like the Myers-Briggs & enneagram are so popular!
To me, astrology is a tool. It's not an exact science, and it's not a precise way to make predictions. It is a method for self-discovery, self-acceptance, and eventually self-fulfillment. It gives you a way to stop ignoring your gifts and your challenges and gives you suggestions on how to unleash your best self.
THAT is powerful and magical and pretty rad!
Real quick, because I'm sure you're dying to know, here's my chart:
Sun in Pisces
Moon in Gemini
Rising in Gemini
Mercury in Aries
Venus in Aquarius
Mars in Aquarius
Jupiter in Virgo
Saturn in Aquarius
Uranus in Capricorn
Neptune in Capricorn
Pluto in Scorpio
Knowing I wanted to take on a theme for 2020 in my creative work I decided to plan astrology-inspired boudoir sessions.
12 sessions with 12 different people, capturing the sensual essence of their sun sign through styling, wardrobe, and posing.
Y'all, it's going to be DOPE.
With the help of my makeup artist Queen Roxana, we'll be collaborating with each chosen model to set the mood. By choosing our location, set details, wardrobe, makeup, music, and posing style intentionally, we'll craft a shoot that encapsulates each sign's energy. If you want to see the inspiration for each sign, check out the Pinterest boards!
The photos and videos from each shoot with be shared here in the Boudoir Library. We'll also be documenting the entire process on Instagram at the hashtag #LQPAstrologySessions. We have big dreams for the photos at the end of the project, so stay tuned!
If you want to learn more about the project and how you can participate, head to www.laurajquintero.com/astrology-sessions.
I'm so excited to start planning these shoots, and I can't WAIT to bring you along on this creative journey!
Why Astrology Sessions?
February 6, 2020